The Four Seasons Difference
Our goal is to make you feel as comfortable in our home as you would in yours, sans children and chores. Four Seasons Scrap-Inn offers several scrapbook getaways, including an all-inclusive getaway starting at 1:00pm Tuesday through 3:00pm Thursday (new!) or on weekends starting at 1:00 p.m. Friday through 3:00 p.m. Sunday. You won't feel the need to rush or try to cram in one more page before you leave. Our extended hours afford you the luxury of a slower paced day. Sunday brunch is designed for you to finish your project, nosh when you feel like it, then sigh—knowing this time will come to an end. It has the makings of a perfect scrapbook getaway.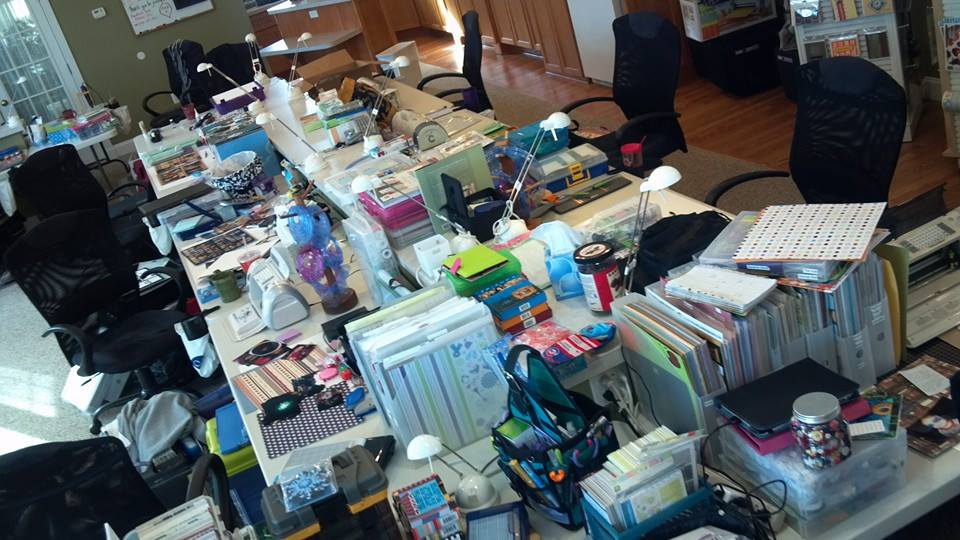 Whether you scrap, quilt, knit, or bead, from novice to pro—all hobbyists will enjoy the comfort and spaciousness of the crop room. (Take a look around.) Each six foot table has its own outlet, lamp, and executive chair to sustain those long hours of crimping and crafting. A computer is available for printing text and pictures. If you'd like to bring your own laptop, WiFi is available. The crop room also has an abundance of supplies for you to use, just in case you don't want to pack it all. Speaking of packing . . . don't forget your swim suit! When you need to re-energize or just relax, take a dip in our hot tub; during warmer months you can swim in the pool!
Our retreat was designed with your needs in mind. The scrapbook getaways are perfect for everyone.  If you have limited mobility or difficulty walking, the first floor bedroom and bathroom is waiting for you! The parking lot is steps away from the entrance to the crop room. Handicap parking is located on the west side of the house and appropriately marked. No steps! From the moment you arrive to the minute you leave, Four Seasons Scrap-Inn was created to give respite to the weary crafter; time away from the craziness of home. Allow yourself to be pampered!